Ok, I did it. I survived my own bathroom remodel at my house. Now I can share my experience and the final product! I talk to clients everyday about the process of remodeling...you know, the usual..."it's messy, loud, dirty, and long". And I lived through it first hand. (Now side note: throughout this blog I will be using to "I" when I really mean "We". I live with my husband. But he was so gracious and let me handle the whole project- literally the whole thing. I think he saw a tile sample before I ordered...? But literally, he let me pick everything, coordinate everything, and I just told him when it was done. Thank you honey! So hence the article being written from my perspective.)
A little history on me. I have remodeled in the past. I remodeled my mom's home over the summers while in college (circa 2002). Her project involved re-tiling a shower, building a custom vanity and concrete countertop, painting, coordinating her minor kitchen facelift, and installing a tile backsplash. Then years later (circa 2007) I undertook a large master bathroom renovation where myself and my ex did all the work ourselves, back when I had time to be a "DIYer". It was complete overhaul which involved rerouting drains, waterlines, tiling the whole bathroom in black slate. You know, the type of project you set out to start and complete in a summer and ends up taking a year while working full time. (insert "I told you so" here). Been there, done that. And lastly I did a kitchen reno at my house in Orlando (circa 2010) where I did some of the work and hired most of the work. Can you see a pattern? Every project I have done later in time I have hired more and more of it out. I am learning.
Come present. I am now a very busy business owner. I was also pregnant through most of my bath renovation. But even if I hadn't been pregnant, I am at the point in my life where I was able to hire out the work. All of it. And I am so happy I did!
Now let's talk about this project. I live in a 1400 SF bungalow in a historic neighborhood in St.Pete, FL. I have 2 bathrooms. A very small master bath. And a small guest bath (the project). When I say small - you could clean the tub while sitting on the toilet. It's about 40 SF. Here is a video of what the space looked like before we started. Note: This project was due to a leak in the pipes that caused water damage in the bathroom and wood floors in the adjacent bedroom.
The first step: the Layout. The main goal was to gain square footage. Luckily with a little help of my designer friend, she encouraged me to borrow space from 2 closets. I have a larger house project planned eventually, so I took a risk by borrowing precious closet space now which will hopefully be replaced later. The original bathroom was a jack and jill bath. There was door entering from the hallway and a door into another bedroom. The toilet was under the window and the sink was a pedestal with NO storage. The tub sat behind the doors when they were open.
The new layout involved gaining 15 SF. I know that doesn't sound like a lot but I added 50% more space in this bathroom! I moved everything. I designed a wider and deeper tub, moved the toilet, and added a 60" vanity (holla storage!). Also other niceties like a recessed niche, a shower ledge, a recessed medicine cabinet, a blue tooth speaker fan, and a wider pocket door (perfect space saver!).
Here are the before images.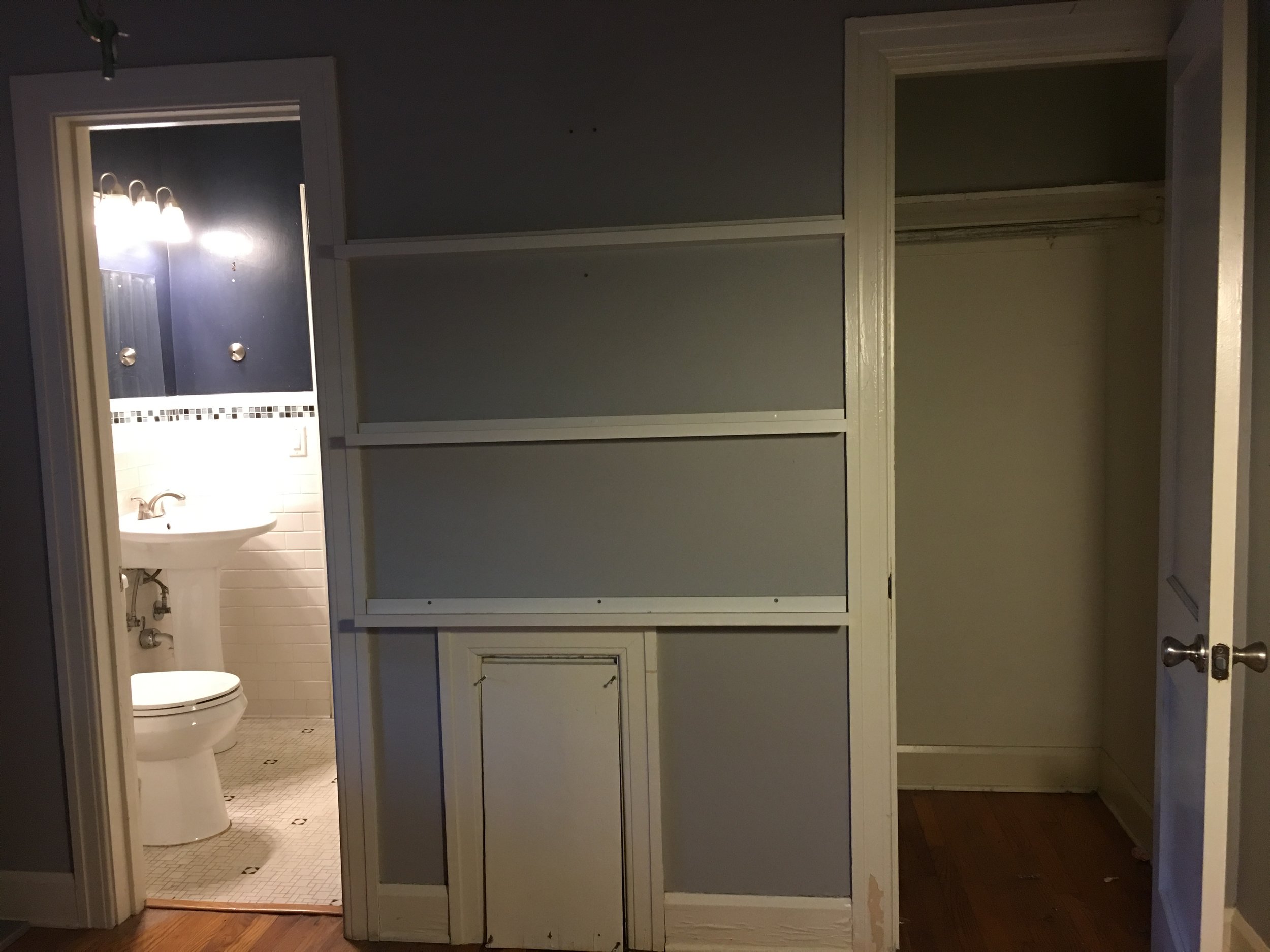 Join me next week as I talk about the team, the process, the pallete, and getting construction underway! Until then, here is a little peek of the tile that inspired the whole design palette! Stay tuned for the fun stuff :) -Brooke